A chair in the garden
A chair in the garden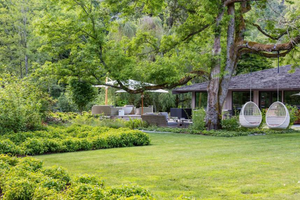 Yes, this time our main character is a chair in the garden. The term "chair" here is a vague definition that includes, but is not limited to, chairs, benches, recliners, rocking chairs, etc. that have similar functions and allow people to sit down.
There are only two things we can do in the garden - "go" and "stop". If you 'stop' in the garden, or are attracted to the scenery somewhere in the garden, or want to think about something, then you need a chair that sits or lies down to do what you want to do, and that's when the chair plays a pivotal role. In this way, do you think the garden always wants a chair?
With the development of the outdoor furniture market, we can choose from a variety of garden chairs. Whether you love classic styles or materials, or are passionate about new materials and designer models, you'll find a way to be satisfied and comfortable. Of course, you also need to consider the garden style, or consult the designer for advice. Proper chairs can add points to the garden, even if it is as important as a garden skit.
Of course, it is not a random choice, its style, materials, colors and other choices are worth pondering, after all, a good-looking chair is not only pleasing to the eye, but also very colorful, become a scene in the garden.
So, whether your selection criteria are "functional first" or "face value first", read the article and pick your favorite chair for yourself. Wouldn't it be nice to have a chair and sit in the garden sometime, or sit down, or lie down, or take a nap and enjoy the good times in the garden?