Creating Your Own Garden Getaway
Creating Your Own Garden Getaway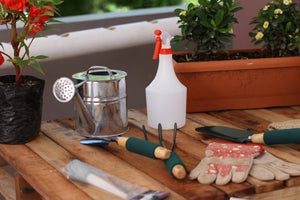 If you've ever seen, ahem, a neighbor's garden and can't wait to spruce it up, check out these 10 ways to create the perfect garden spot. If you really want to create the perfect garden space, it all comes down to adding as many amenities as possible. Changing the style and adding different elements to your garden is the perfect way to turn your outdoor space into the perfect place to relax.
With a little effort, you can easily turn your garden into the perfect place for relaxation and entertainment. Lighting up your garden is a great way to make it the perfect place to relax and entertain on long summer evenings. Your garden can really become a wonderland of unique lights when the sun goes down if you have enough outdoor lighting. Solar powered garden lights are eco-friendly and come in a variety of stylish designs to suit the garden you create.

The simplest garden lighting is to install a series of solar lights or a series of solar-powered street lights. You can also go the traditional route with electric garden lights and whimsical patio or terrace lights. You can also use a regular light bulb or add colorful light bulbs to give your garden a magical look. You can also add some garden accents, like a bowling ball turned into a ladybug, or some fabulous DIY houses.
Colorful wooden pots give a rustic feel to gardening, while matte black pots are perfect for a zen theme. Or, if you're looking to create a country cottage-style garden, you'll probably want to opt for a wood fence and a rustic brick walkway.
If you want to create a private space where you can truly relax, consider planting a hedge or privacy screen. If not, you can create a cozy nook anywhere in the yard by installing a screen or trellis. As long as you have outdoor living space within your property, you can have your own beautiful oasis of relaxation, all you have to do is get out the door.
By turning your garden into a mini outdoor sanctuary, you can create a one-of-a-kind living room that will help you relax, unwind, and stay in touch with nature. Here, you'll find ten tips for turning your backyard (or any green space you work
with) into an outdoor oasis with all the elements for an unforgettable weekend. From arranging the space to relax and choosing the right furniture to setting up the proper lighting and thinking about the plants you grow, here's how you can
create your own garden break.
Whether we're picking up a whole set of teak furniture and nowhere to put it, or buying countless plants we don't know how to grow, creating the perfect garden getaway can take more than a few random purchases. Trees, potted plants, a well maintained garden - there are many things you can do to turn your garden into a lush retreat. Don't worry - with new decking, maybe a DIY pond, and a few lush plants, you can turn your yard into a real relaxing garden.
If you know you don't come home often and are just looking for a nice place to hang out on the weekends or evenings, a simple, low-maintenance garden design means you can enjoy your garden whenever you want.
A high-maintenance garden with plants that need special care can wilt and rot if you don't have time to properly care for them. Developing a final design for your garden takes some research, but it's worth it when you can sit back and relax. Your garden design can really make a big difference in how you feel. The plants you choose for your garden can have a big impact on the overall ambience.
Visit your local garden center to determine which flowering plants are best in your area, what conditions they need, how big they will grow, and plan your new garden accordingly. Take accurate measurements of your outdoor space to determine how many plants to buy, and make a plan for your garden space by mapping out how you want your new garden to look. Plant trees, shrubs, flowering plants or any other vegetation to make your outdoor space as green and relaxing as you want it to be. In the UK, many people have a small garden, so careful garden design is really important if you want your outdoor space to feel larger.
The last thing you need to create a relaxing and comfortable garden space is something beautiful. If you want to create a relaxing space, choose plants known for their relaxing properties, such as lavender, chamomile, and jasmine. Shrubs like pineapple or jasmine will fill your garden with fragrance and create a relaxing atmosphere.
If you can't poplar, you still have a few options for relaxing garden sounds. I hope I have given you some ideas for creating your own relaxing garden. Today I want to share some of the ways I have created a cozy and relaxing garden space that I hope you can use too.

While many of us may be staying this year, there are ways to create a holiday paradise in our gardens using plants and decorations that mimic many exotic destinations. Although many people have taken many years to create this lush garden, you can take inspiration and ideas from this lush garden and make something similar for your garden in less than a year. You can plant a vegetable garden to grow your own food, grow a flower garden for a beautiful view or cut flowers for your pot, or if nothing else, create a garden just to create a space where you can go to escape stress. your life to relax and unwind. Other
purposes for plants might be to attract butterflies and birds, grow a vegetable garden to provide food for your family, or create a flower garden to create your own flower arrangements.
Solar-powered fairy lanterns are relatively inexpensive and will add a magical and enchanting atmosphere to your gardening experience. You can hang large bells from trees, from thieving shepherds in the garden, or from your own chicken coop.